Digital Innovation Strategy
Digital innovation vision
In 2020, FET's digital transformation plan will be focused on ""innovation, transformation, restructure for now/tomorrow," in which big data, AI, and IoT will be the core technologies and competences in our transformation and upgrade. We will continue to promote the government's smart city programs and develop new relevant 5G application services, thereby leading Taiwan's digital transformation toward smart logistics and smart city. FET aspires to assist consumers, enterprises, and partners in various fields to formulate a vision for smart living, smart commerce, and smart city through our core technologies and capabilities.
Digital Innovation Strategies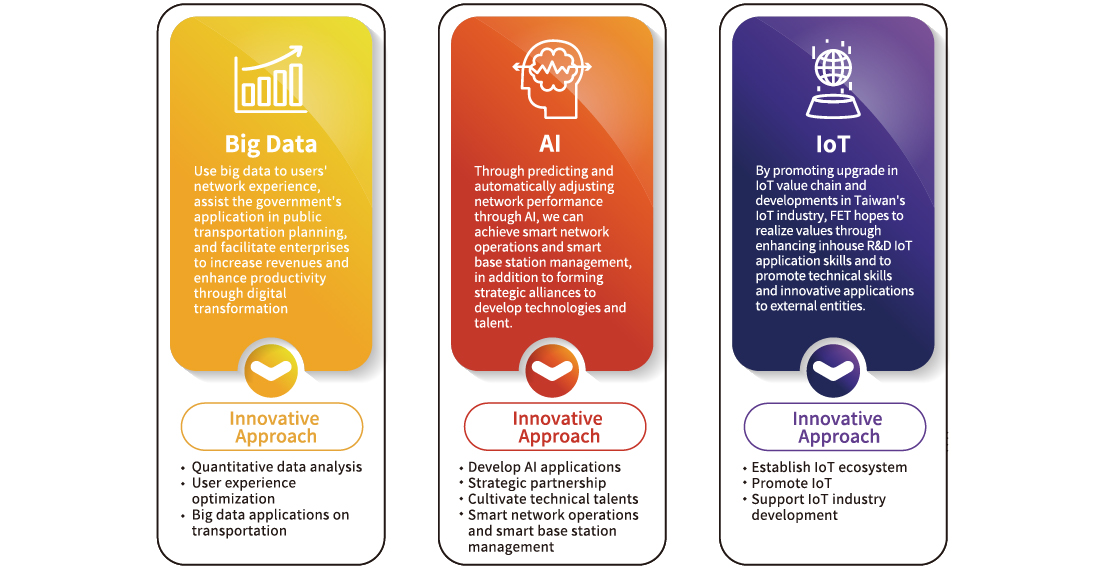 Digital Innovation New Direction
According to International Data Corporation, IDC's 10 major upcoming trends in Taiwan's ICT (Information and Communication Technology) market published in 2019, it was predicted that 2019 is a key to "Race to Reinvent for Multiplied Innovation". Enterprise must speed up their pace in digital transformation. In face of intense competition and challenges, FET has the mission of becoming the best partner of the customer's digital life. Leveraging the expertise of the excellent mobile communication technology, big data analysis, artificial intelligence and IoT, we will work together with business partners from various fields to create forward-looking application technologies in various aspects and strive to create a diversified ICT innovation service.

FET has launched the digital transformation program 2020, and has planned the application of Big data, AI and IoT, and has been able to cooperate with the government's promotion of smart city to realize self-driving field, and further display the smart transport or smart city new 5G application services to drive Taiwan's digital transformation. We wish to apply FET core technology and abilities in various areas: enhanced customer network experience, public transportation planning via big data analytics to assist government and enterprises increase their revenue and effectiveness; network efficiency prediction and automatic adjustment via artificial intelligence for smart network operation and smart base station management so as to collaborate with strategic partners and develop technology and talents; promote the upgrade of IoT ecosystems so as to stimulate the development of Taiwan IoT industry. FET wishes to first implement these values internally and then promote the technical capabilities and innovative applications externally to assist consumers, enterprises and collaborators from various areas to shape the vision of smart life, smart business and smart city.