Developments and Growth
FET strives to pursue quality improvement and the depth of employee's training developments. The blueprint of the training programs is based upon the functionality of the business units and the employee's professional level, also the planning and arrangement of training aimed for core competency, at the same time, strengthening the training in managerial level and talent pools, and assist the career path developments of our employees. Each of our employee will have their own personalized training program to ensure their rights for equality in training and developments.
Talent and Career Developments
FET encompasses the necessary components for the Company's current and future training and development endeavors. This is achieved through internal diagnostics of the organization, analysis of market trends, and understanding customer needs. These efforts align with FET's 3-year digital transformation strategy and talent development direction. Since 2019, our development goal has been focused on cultivating "Big, AI, and IoT (Big Data, Artificial Intelligence, and Internet of Things) talent". Annually, we conduct thorough reviews of the course content to ensure its comprehensiveness and suitability, making adjustments as needed. This ensures a strong alignment between the Company's strategy and operational objectives. 
In 2022, our company strategically planned three types of courses - leadership, data, and expertise - based on the key themes of work efficiency, industry trends, and industry technologies. Additionally, we have enhanced our management and professional skill courses. Since 2020, we have implemented internal lecturer training and courses, established internal reading clubs and technical salons, and fostered a culture of organizational learning. Furthermore, recognizing the growing demand for personalized and digital learning methods, we have introduced a comprehensive learning resource platform. This empowers our colleagues to independently tailor their learning courses to meet their individual needs. In 2021, a total of 15 colleagues were chosen to partake in the extensive four-month training programs offered by the AI School. These programs included the AI School Manager Class and the Technology Leader Class. Both classes were successfully completed in 2022, achieving a 100% completion rate. The primary objective of these courses was to introduce cutting-edge external knowledge and foster the development of internal talent within our organization.


Main Aspects

Target

2022 Highlights

Management and

Professional Talent

Cultivation

Cultivate the management

and professional talent

needed in the era of digital

transformation

Experience improvement and New Hire Journey optimization
Re-examine the needs and weakness of incoming employees, optimize the existing
newcomer registration process, training courses and buddy system, and help
accelerate newcomers' familiarization with the organization and culture.
The overall average satisfaction rate of newcomers on New Hire Journey was 4.46,
an increase of 4% compared to the previous year. This optimization project will
continue in 2023, continuing to review and re-design the Journey to meet the needs
of newcomers at the time of entry.

Personalized Learning: Enhance self-learning and digital transformation growth
In light of the personalized learning trend and the pandemic's effects, all colleagues
are being equipped with individualized learning plans. These plans encompass
personal soft skills, industry trend awareness, and professional technical expertise.
Throughout the year, the total number of course participants amounted to 4,476,
with an average satisfaction rate of 4.45.Furthermore, we implemented a range of
diversified learning tools in our organization, specifically tailored to the materials
andenergy sectors. These tools include a digital library for reading, Podcast
micro-learning for listening, and reading clubs for group learning. Additionally,
we consistently published monthly learning and development reports to facilitate
resource coordination, time management, self-improvement, and the cultivation
of a learning-focused organizational culture.

Continuously promotion of managerial training
To support the advancement of professional staff into managerial roles and ensure
their competence, transition preparation courses have been developed.
These coursesencompass essential knowledge and skills for supervisors, including
internal audit and control concepts, authorization, counseling, and decision-making
at the management level. Additionally, the effectiveness of these courses will be
evaluated annually through performance assessments and feedback. As of 2022,
six cohorts of newly promoted or new managers have undergone training,
with a total of 140 managers completing the program. The average satisfaction rate
stands at 4.8. Two seminars and sharing sessions were conducted to promote and
appreciate the diversity and unique perspectives of female managers in the
workplace. A total of 41 managers actively participated in these events, aiming to
foster a more inclusive, equitable, and diverse environment within the company.
Main Aspects

Target

2022 Highlights

Becoming Diverse

Learning Partners

Construct physical and online

learning channels through

internal experts to transform

into a learning organization

Knowledge creation: In-house lecturers as the driving force for training
1. Since 2021, FET has developed 47 internal instructors and conducted 136
courses.These courses cover various topics such as presentation skills,
communication and coordination, and industry trends in big data
/AI/IoT, VBA, RPA, and Tableau industrial technology. In 2022, the internal
instructors further provided training to 2,514 participants through the
"Individual Training Plan." The courses received highly positive feedback
with an average satisfaction rating of 4.7 points.
2. To ensure the smooth operation of our stores, address customer issues,
and deliver exceptional sales and service amidst the ongoing pandemic,
our assistance is crucial in achieving the Company's sales expansion objectives.
In 2022, supervisors and functional demand stakeholders collaborated to
discuss and evaluate the behavioral indicators and functional capabilities
necessary for store colleagues. Internal instructors served as lecturers for the
"Franchise Outbound Sales Training Program." A total of 14 sessions were
conducted, with 430 participants successfully completing the training.
The course satisfaction rate reached 97%. This initiative not only enhanced the
functional capabilities of colleagues but also resulted in 3,880 outbound sales
opportunities, with a completion rate of 91.8%. As a result, the organization
successfully expanded its business sales channels.

Knowledge dispersion: internal/external education and training
Building on the ongoing digital transformation efforts of the past three years,
the training program for 2022 focused on three key areas: enhancing work
performance, staying abreast of industry trends, and mastering industry
technologies.
A total of 102 sessions comprising 66 physical and online courses were
conducted by both internal and external instructors. These sessions
attracted 7,530 participants, resulting in an average satisfaction rate of 4.63.

Knowledge sharing: Encouraging the forming of study groups to create the
culture ofreading and sharing
Continue to encourage colleagues to cultivate the practice of sharing novel
knowledge and technologies. Over the past two years, our colleagues have
taken the initiative to form study groups, resulting in the establishment of
a total of 24 groups. The website showcasing the outcomes of these study
groups is accessible to all colleagues within the company.

Encouraging

Innovation and

Skill Inventory

Promoting digital

transformation and

innovation based on the

Big data/AI/IoT"

Skill inventory: Construction and analysis of professional function data
Conduct functional database construction to establish the foundational
model for the subsequent professional function inventory and system.
Additionally, utilize the system to facilitate the construction and
management of professional licenses, aiding in personnel skill
development and digital transformation.

Data is king: Continuing to offer data and software skills courses
To promote digital transformation, we have conducted a total of
50 training courses, both internally and externally, aimed at
enhancing data analysis skills, knowledge of data analysis and
machine learning, and understanding of cloud computing concepts.
These courses have been completed by a total of 1,285 individuals.
The topics covered in the courses include Tableau Desktop,
data analysis, RPA, Splunk, and others. Through practical and
hands-on learning, these courses have assisted colleagues in applying
their knowledge in practical settings, thereby improving their digital
knowledge and skills.

Creativity and innovation: Encouraging breakthroughs to create more
differences
In 2022, our company successfully organized ten courses on creative
innovation, problem analysis, and solution strategies for our colleagues
in the materials and energy sectors. These courses aimed to enhance
work efficiency by equipping participants with innovative design thinking
methods. We are pleased to report that a total of 197 individuals successfully
completed the training, furthering their skills in creative innovation and marketing.
Training Results
In 2022, FET employees received an average of 47.5 training hours, with a total cost of NT$19,666K and an average cost of NT$3,662 per person. To address the challenges posed by digital transformation and the pandemic, the learning content developed and invested in during this period was strategically focused, adopting a more digital learning model and offering a wider range of learning resources. These efforts have laid a solid foundation for the digital transformation of our training initiatives. 
■ Employee Training in 2022 by Type of Training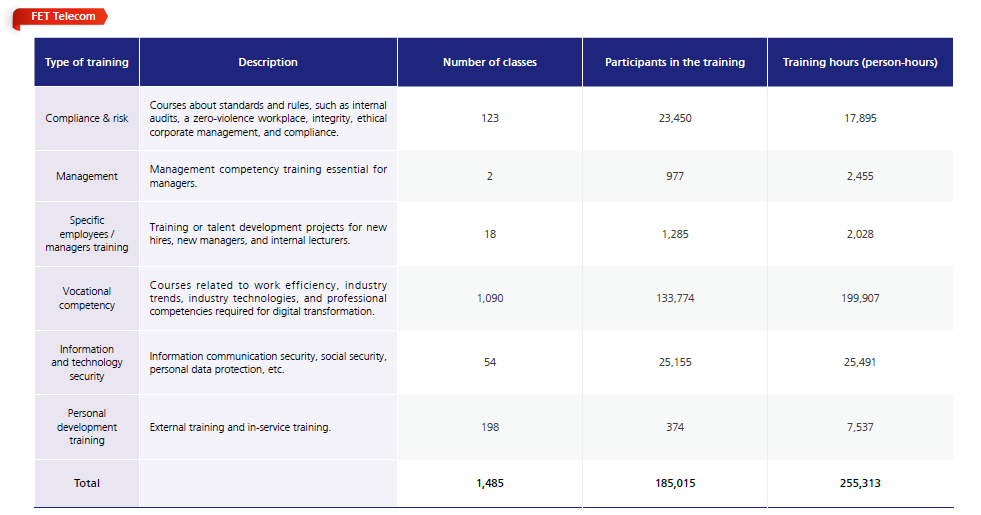 ■ Total Number of Employees Trained, Hours of Training, and Gender Distribution in 2022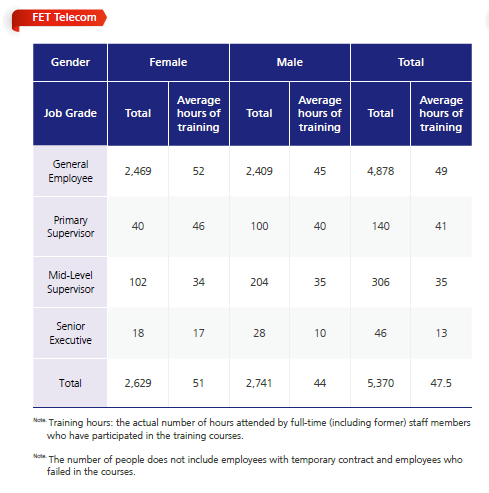 Culture and Organizations
Agile Way - My New Agile Approach
In the New Digital Era, FET introduced "AGILE WAY, An Agile Attitude", this is to encourage employees achieving their goals through ability to adjust their direction in a timely manner, flexibility to utilize resources, respond in a proactive fashion and stimulate new creative ideas in their approaches.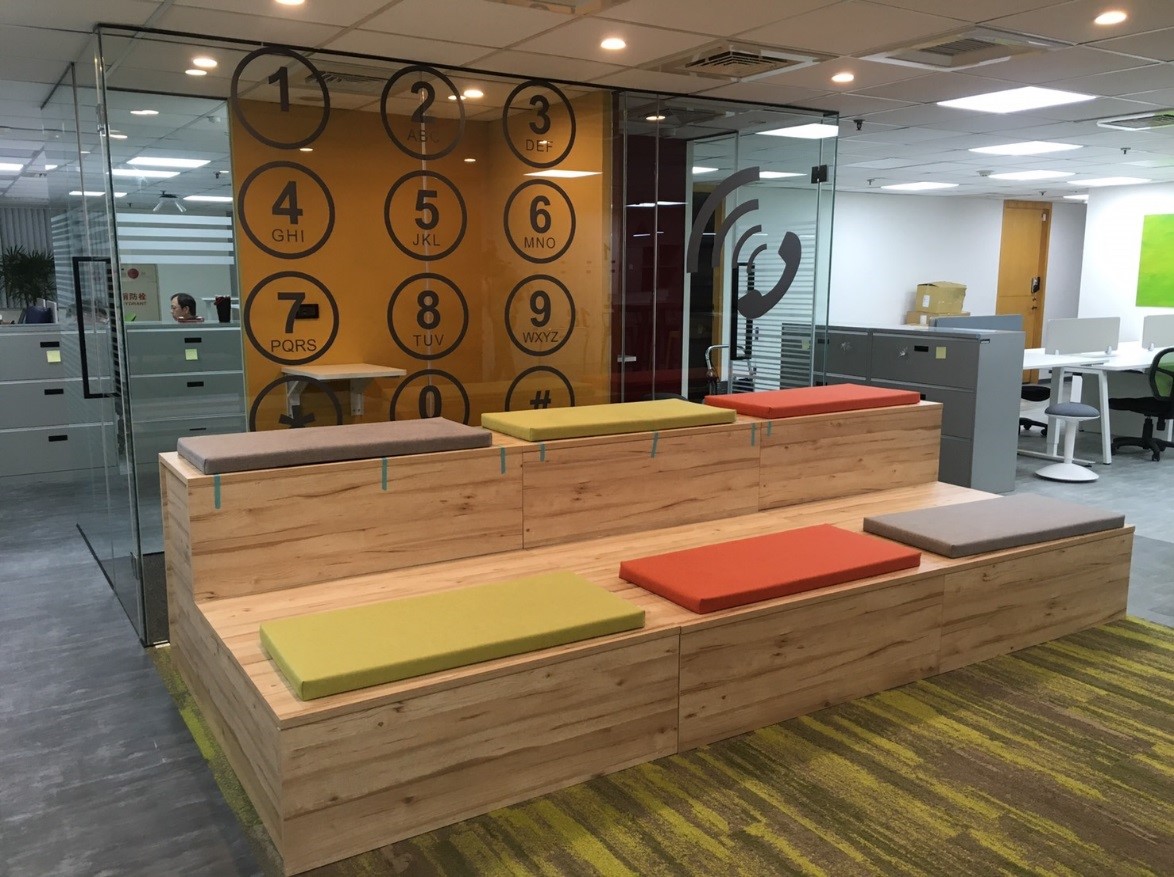 5G-BIG (Big Data, Intelligence, IoT) Talents
Big Data, Artificial Intelligence and IoT are the main focuses of FarEasTone developments in recent years. Committing to digital transformation, creative applications and cultivating talents in the related fields, each employee becomes a driver in our innovation advancement and we build up a wide range of digital life for our customers. 
The Innovation Award has been held for many times since 2018, attracting colleagues from different departments and subsidiaries to participate as teams. Over the past three years, there have been approximately 200 registered cases and nearly 1,000 participants. We believe that through such activities we can stimulate innovative thinking of employees and promote communications and collaborations among different departments. We can turn good ideas into reality and share them with more people, creating greater value. The purpose of the Innovation Award is not just to reward the achievements of individuals or teams, but more importantly, to make the company more innovative and open, encouraging colleagues to constantly try new things, challenge their comfort zones, and make FET an energetic and creative organization through the activities. 
In 2022, a total of 51 teams participated in the Innovation Award. The competition process included initial screening and final presentations. In the end, 6 teams and 2 individuals were awarded as winners, each receiving f coins and a trophy.