Human Rights Policy
FET has devoted itself to protect fundamental human rights of its employees and has been following labor-related regulations. FET has been supporting and complying with International Bill of Human Rights, including the Universal Declaration of Human Rights, the United Nations Global Compact, United Nations Guiding Principles on Business and Human Rights and the Declaration of Fundamental Principles and Rights of Work published by the International Labor Organization, to preclude any violation and breach of human rights, so as to raise the awareness of human rights for employees and stakeholders. The human rights commitment of FET is applicable to itself and its subsidiaries. Moreover, FET has established the "Guidelines for Corporate Social Responsibility of Suppliers" for its cooperative partners, so as to expect and request the cooperative partners to meet the idea and principles of human rights commitment with the same standard.
Promote Social Welfare with the Core Competencies of the Enterprise
As a supplier of telecom service, FET has actively planned and established infrastructure to ensure that citizens living in remote areas, mountains and offshore islands are able to enjoy the fundamental rights of telecom service. Meanwhile, FET has improved the quality of digital convergence based on its core technology, promoting reduction of digital divide and equal digital opportunities. FET has cared about the safety of people. FET assists people to obtain information related to disaster by delivering push of disaster prevention message on cell phone. Once the disaster occurs, FET endeavors to repair the equipment in order to recover the service. In addition, FET shows its care for the affected citizens by providing telecom support, hoping to reduce the loss caused by disaster. Furthermore, FET is concerned about the right of employment of the disadvantaged. FET cooperates with external organizations to provide jobs for people with disabilities, creating friendly work environment for people with disabilities. At the same time, as a quality supplier of telecom service, FET has respected individual privacy of all parties (including suppliers, clients, consumers and employees). FET builds up monitoring systems for information security on the basis of four aspects: information and technology security, personnel security, physical environment security, and protection for personal information clients. Management and verification of international information security is also included in the monitoring systems. FET has made its commitment to reasonably protect the autonomy in individual information and to protect personal life from being disturbed. FET has put all its effort in implementing protection on privacy and information.
Build a Working Environment of Dignity and Harmony
FET abides by all labor and gender equality regulations of the regions where it operates, and provides safe and harmonious work environment for employees. FET forbids employment of child labor and any form of forced labor, ensures the working hour arrangement being reasonable, and offers equal and fair wages and benefits to employees. Meanwhile, FET has committed to eliminating workplace violence, including harassment, violation, physical punishment, verbal insult and psychological oppression of all forms. Relevant policies and procedure have been clearly defined and expressed to workers. Moreover, FET has respected the freedom of association of its employees. FET has had accessible and diverse channel for communication between the management and labor. Under such framework, employees or representatives of labor are able to publicly communicate with management without being retaliated, threatened or harassed, so as to create a harmonious workplace for both business and labor.
Build a Diverse and Tolerant Work Environment with Respect to Equality
FET has been open to the diversity in the organization, and has treated employees, contracted staffs and interns with dignity and respect. FET also has made commitment to protect its employees from harassment and legal discrimination, providing equal opportunities of employment and development to all employees. The employees are not discriminated because of their nationality, race, age, gender, marital status, gender identity, disability, pregnancy, religious belief, political standpoint, background and other identities that are protected by law. Also, the wages and opportunities of advancement, reward and training of employees are not influenced due to the reasons stated above. Meanwhile, FET chooses to work with suppliers that share the same ideals, hoping to create a work ecosystem that is with dignity and equality.
Create a Safe and Healthy Work Environment
FET deeply understands that employees are important assets of the company, knowing that a safe and healthy work environment is the key to the commitment, productivity and morale of employees. Therefore, FET has devoted itself to measures that promote health and safety to employees every year, hoping to build a workplace that employees may feel safe and healthy. FET specifies relevant standard operations and contingency procedures for occupational safety regulations and provides appropriate protection equipment to ensure the safety during various operations. Additionally, FET organizes teams of labor safety and medical care to receive regular education on labor safety, which ensure the teams are equipped with the ability to identify and resolve safety issues in the workplace. The performance and effort have made FET to receive workplace safety awards many times. Besides, FET cares for the physical and mental health of its employees. Except for offering overall heath check to its employees regularly, FET also actively holds training and activities regarding health management issues, designs assistance project to provide counseling service to its employees and organizes activities, such as company outings and massage service. By doing so, it is hoped that the employees of FET may maintain a healthy and balanced lifestyle.
Review and Evaluate Relevant System and Action Regularly
FET has publicly expressed its determination to respect human rights, and FET will continue to strive for bringing issues related to human rights into its policies and management system. Management system includes :
FET has followed conventions of human rights issued by the United Nations and bills circulated in the international society. FET has reviewed the management of human rights regularly based on the guidance and principles of the above-mentioned regulations. At least once of every three years, FET conducts risk identification and due diligence for its internal system and value chain. Afterwards, the matters that require improvement are sent to relevant departments to investigate and plan for improvement, and such matters are followed-up on a regular basis.
Communication and Promotion
FET publicly discloses its strategies and implementation for human rights. FET has clearly and specifically conveyed its strategies and issues related to human rights to employees, suppliers and clients.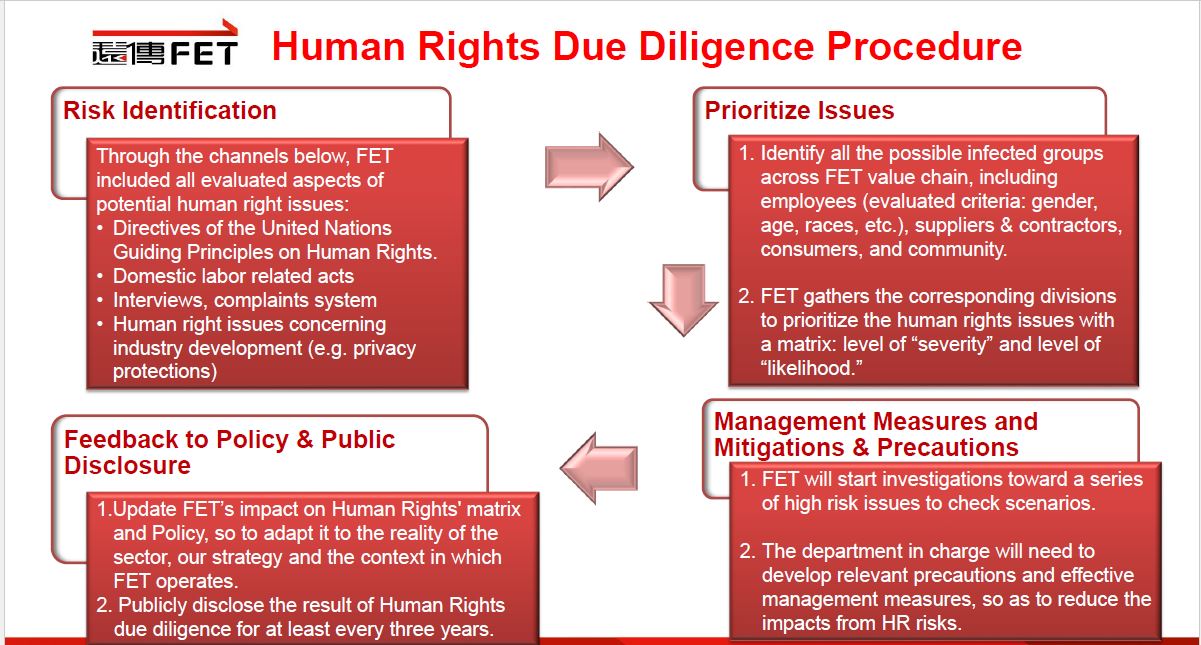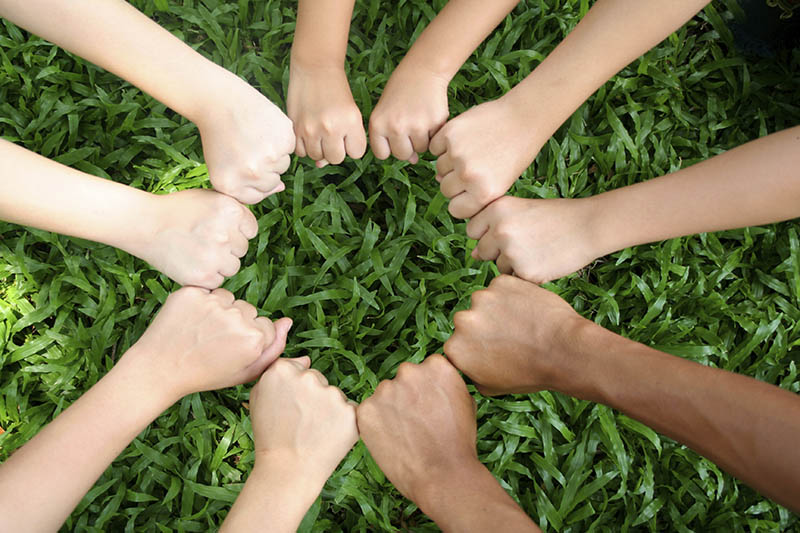 Human Rights Commitment and Policy
Human Rights-Assessment_HR Due Diligence Report