Climate Change Risk
In response to the potential effects of climate change on our operations, FET adheres to the Recommendations of the Task Force on Climate-related Financial Disclosures (TCFD). We implement a comprehensive approach to managing climate risks, focusing on corporate governance, strategy, risk management, indicators and targets. We continuously identify risks and opportunities related to climate impacts throughout our value chain. We evaluate the financial impact and scale of each risk factor under various scenarios, reviewing and implementing response measures accordingly. Additionally, we establish measurement indicators and objective management to ensure the progress and effectiveness of our action plan.
Governance:The Risk Management Committee, situated at the board level, serves as the foremost governing body for risk management within FET. Annually, the Committee engages in regular discussions with the Board of Directors regarding the management of various critical corporate risks, including those associated with climate change. Operating beneath the Risk Management Committee is the "Environment and Energy Management Committee," which assumes responsibility for promoting and implementing climate change-related policies.
Strategy:FET consistently engages in discussions regarding climate issues, aligns with the objectives of the Paris Climate Agreement, and references global climate and industry trends to carry out internal and external surveys. These surveys aim to identify potential risks and opportunities to our business operations arising from short-, medium-, and long-term climate change, both in terms of transition and physical risks. We also propose countermeasures for the identified risks, and in the future, FET will further enhance its integration with financial information.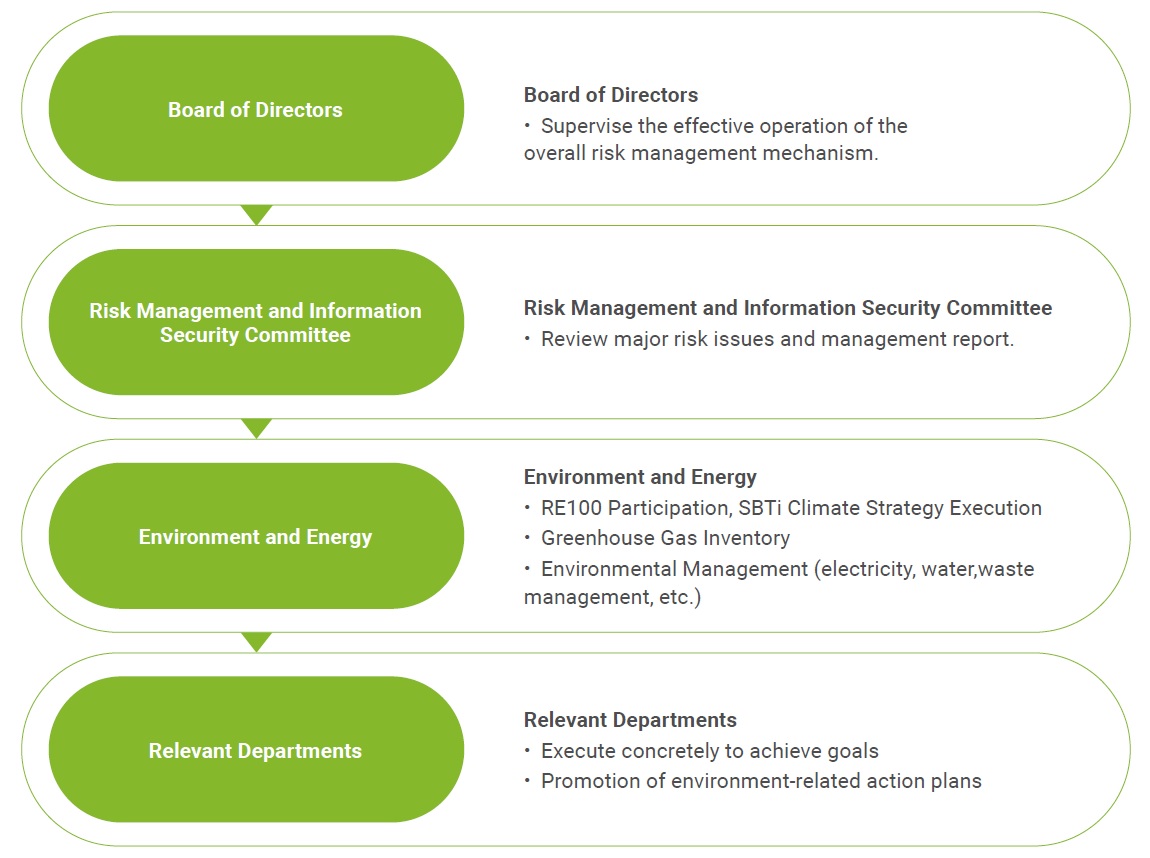 Process of Risk Identification

Climate Change Risk Matrix & Risk Type and Risk Level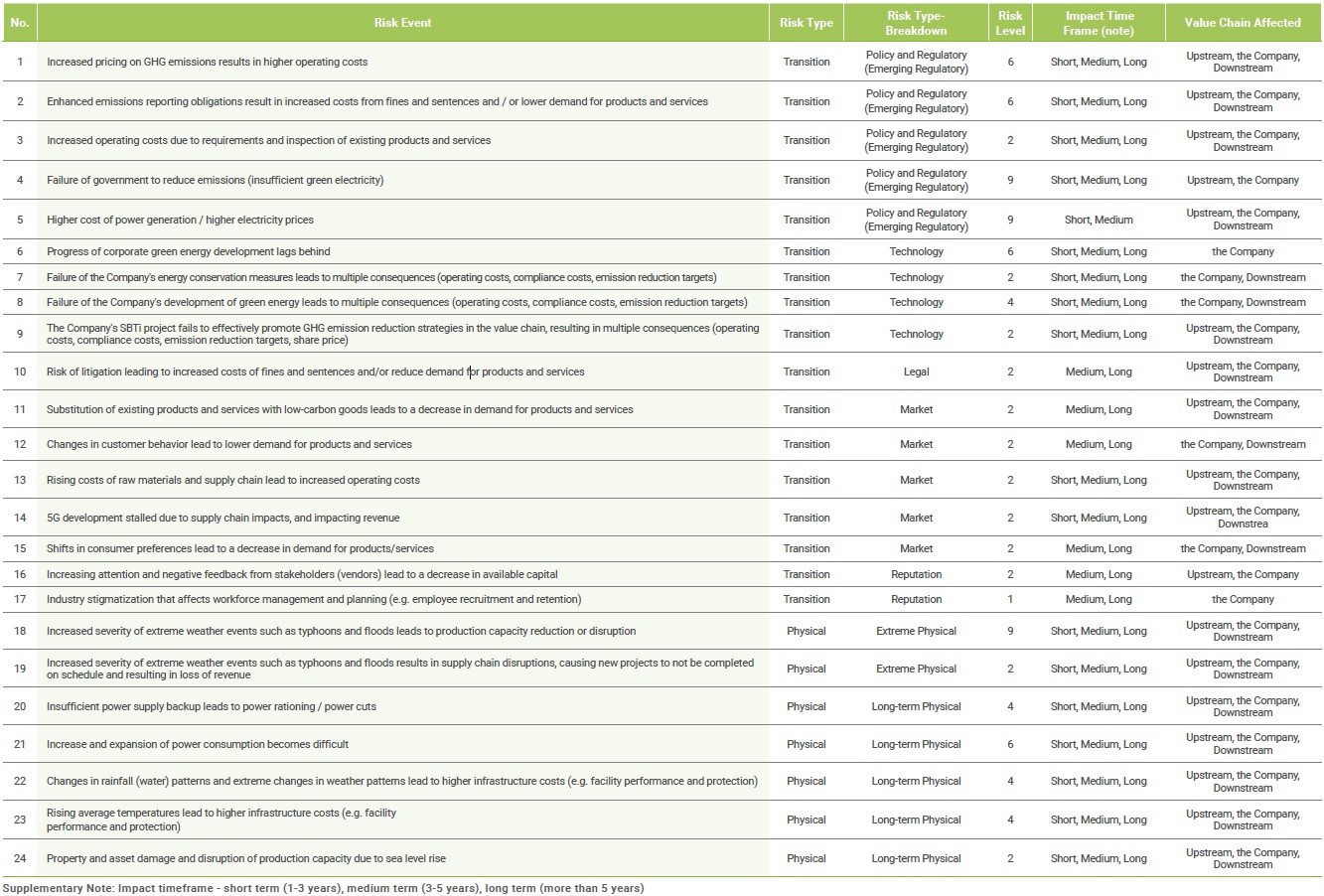 Risk Identification Countermeasures
The table below describes the impact period, response measures, and adaptation plans in light of the potential impact of key climate change transition risks, such as the failure of government emission reduction and higher power generation costs resulting in higher electricity prices. Additionally, the table addresses physical risks, including the increased frequency of strong typhoons and extreme rainfall. It is important to note that the relevant response measures cover 100% of both existing and new operating sites.

Scenario Simulation Analysis
In order to assess the potential effects of climate-related risks on business strategies and decisions, FET has conducted a financial impact analysis for climate scenarios. This analysis specifically examines the physical risk of more frequent severe typhoons and heavy rainfall, as well as the transition risk associated with government failure to reduce emissions and the resulting increase in power generation costs and electricity prices.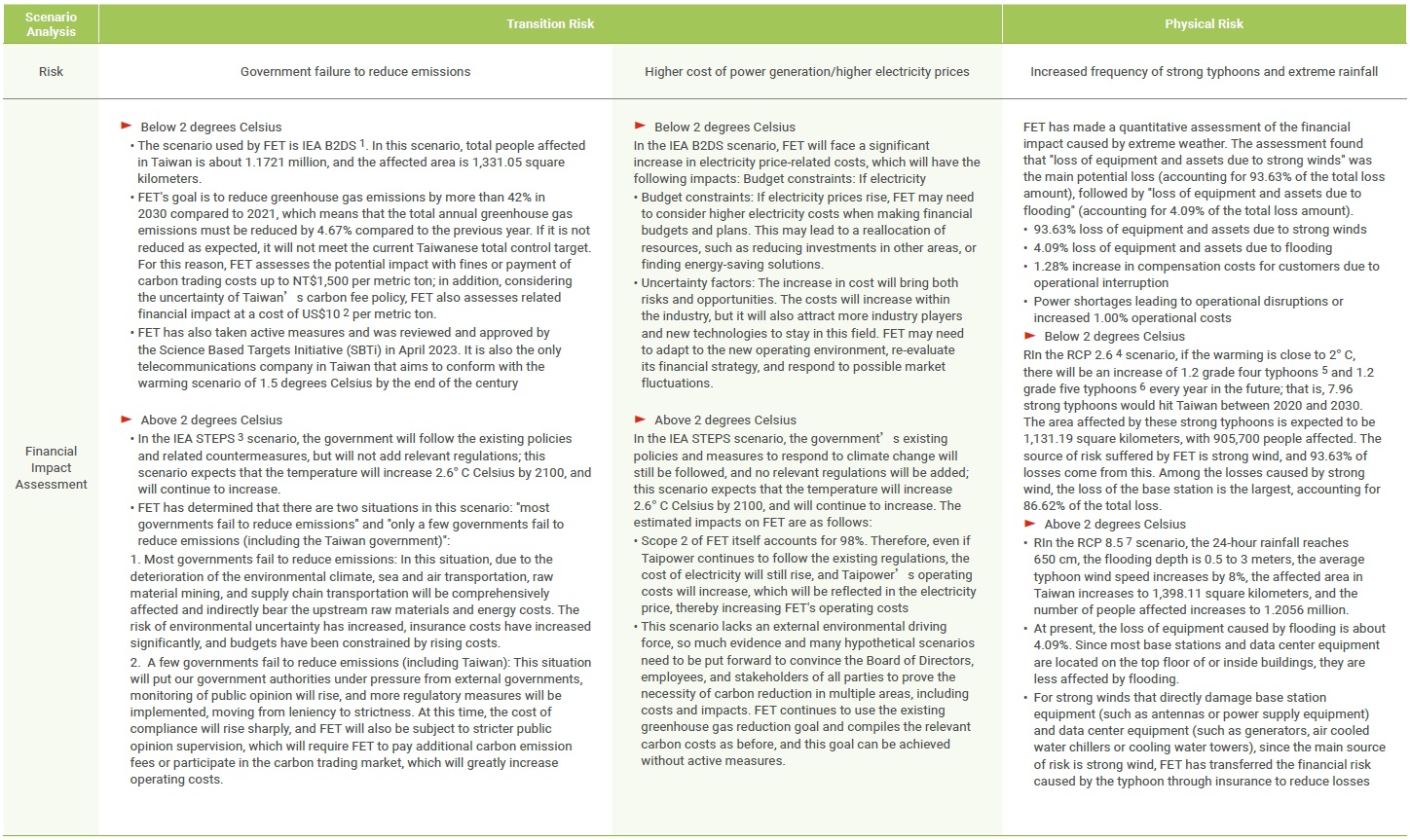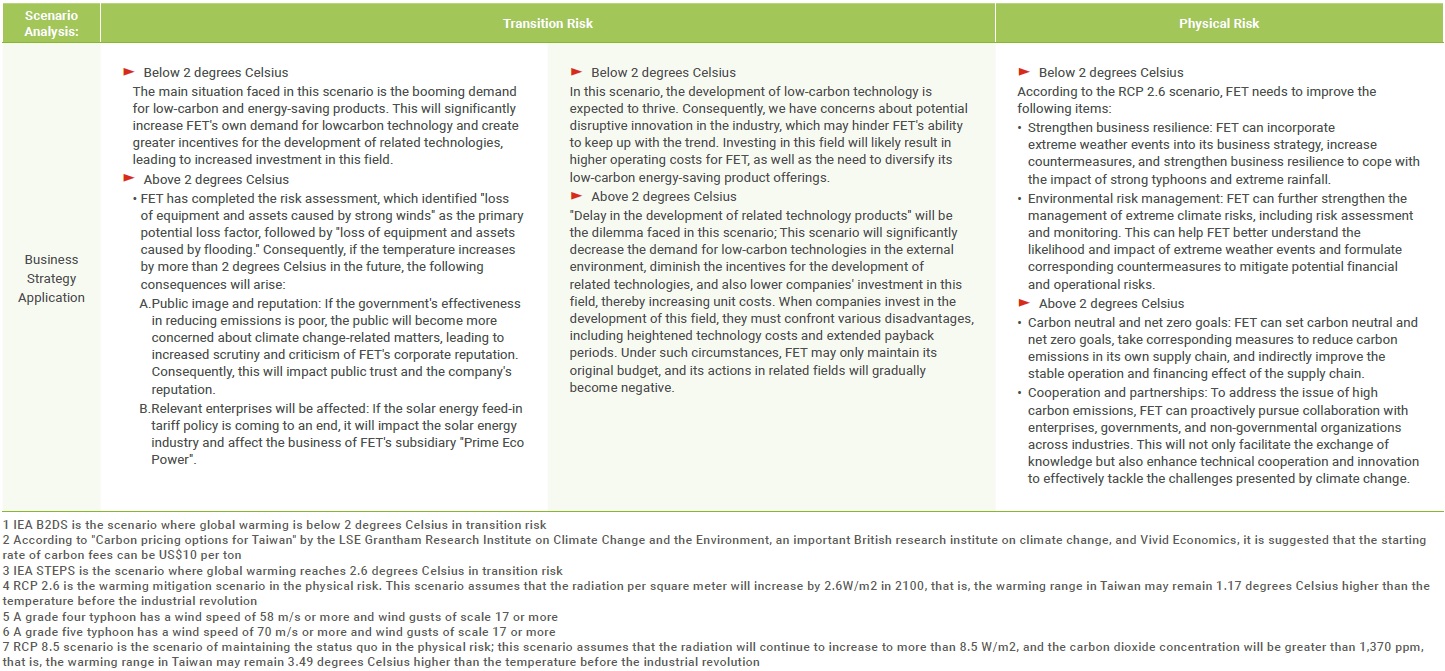 Risk Management
The FET Risk Management Committee implements risk management across various areas of the Company, including finance, strategy, operations, information security, and environmental and energy risks. This is achieved through the operation of different levels of organizations and responsibilities. FET has developed a"Risk Management Policy" based on the "ISO 31000 Risk Management Guidelines,"which has been approved by the Board of Directors. This policy serves as the guiding principles for all business groups in their implementation of risk management. The risk assessment focuses primarily on the Company itself. Each business group conducts annual and regular risk assessments, formulates risk management strategies and plans, and considers the economic, environmental, and social aspects of corporate governance issues that have significant impacts on customers, investors, and other stakeholders. The results and performance of sustainability promotion in the current year are reported to the Board of Directors on a regular basis. The seventh report of the ninth session of the Board of Directors has been submitted.
Targets and Indicators
Energy use is the primary concern for the telecommunications industry when it comes to addressing climate change. FET has developed indicators, including greenhouse gas emissions, energy consumption, and water resources, to assess the effectiveness of our management practices. We not only establish medium- and long-term targets for each response measure mentioned above, but also conduct annual reviews to track our progress. Furthermore, we make ongoing adjustments based on external environmental trends, aiming to minimize the impact of climate change through target management.
FET has established a science-based reduction target in line with the global goal of limiting warming to below 1.5 degrees Celsius. The company aims to achieve net zero emissions by 2048. Additionally, FET has officially announced its participation in the international renewable energy initiative RE100. The objective is to fully transition to renewable energy sources in offices, stores, and major data centers by 2030, and achieve 100% renewable energy usage company-wide by 2040. FET will progressively increase the capacity of renewable energy installations to facilitate this energy transition.

Greenhouse Gas Emission
Since 2015, FET has implemented the ISO 14064-1 Greenhouse Gas Inventory and established medium- and long-term goals for managing greenhouse gas emissions. By 2030, FET aims to reduce total greenhouse gas emissions in Scope I and II, as well as Scope III, by 42% compared to 2021 levels. For more details on greenhouse gas emissions, please refer to section 3.2, "Overview of FET's Environmental Footprint."