Environmental Management Policy
Environmental and Energy Management
FET is committed to improving energy efficiency by implementing the Energy Management System (ISO 50001) and Environmental Management System (ISO 14001) certification. We have also implemented the GHG Inventories (ISO 14064-1) to effectively manage the environmental impacts of energy consumption. To guide our efforts, we have established the "FET Environment and Energy Policy " and "Statement of GHG Management Policy." Our goal is to conserve energy and improve efficiency in all stages of telecom services, while actively contributing to climate change mitigation and adaptation.
FET established the "Environment and Energy Management Committee" as the dedicated unit responsible for implementing energy-efficient management practices within the company. Since 2011, FET has progressively adopted ISO international standards to enhance its management mechanisms and has formulated an "Environment and Energy Policy" to promote environmental awareness among both internal and external stakeholders. This policy encourages customers, suppliers, contractors, key business partners, and merger targets to develop energy management measures for various operational sites, implement energy-saving initiatives, and assess and verify the effectiveness of their execution. For our employees, we provide education, training, and raise awareness through environmental policies to enhance their understanding of climate change and environmental protection. This approach helps them grasp the impact of their work activities on the environment, thereby supporting the company's pursuit of environmental sustainability goals.
Environment and Energy Management Committee
The FET "Environment and Energy Management Committee" operates under the "Risk Management Committee" and provides annual reports to the Board of Directors on significant environmental and energy matters. The committee is led by the Chief Financial Officer (CFO) and consists of department heads from various departments. Quarterly meetings are held to address energy and environment-related goals and performance. FET has also implemented measures for Environment and Energy Management, encompassing energy and environmental management, greenhouse gas reduction, and climate change response.

Environmental Management System
FET has already implemented ISO 14001 Environmental Management, ISO 50001 Energy Management, and ISO 14064-1 Greenhouse Gases, and also seeks external assurance. The coverage and results of each environmental management system are as follows. The primary objectives of ISO 14001 include reducing waste by 2%, decreasing water consumption by 1%, implementing ISO 46001 Water Efficiency Management Systems, establishing a carbon management platform, fulfilling the FET Biodiversity and Zero- Deforestation Commitment and Operational Methods, achieving an 80% questionnaire response rate for the Supply Chain ESG Sustainability Risk Self-Assessment of the top 500 suppliers, and attaining an 83% utilization rate of electronic bills. Additionally, the ISO 50001 goal is to conserve 7.87 million kWh of electricity, invest in or construct solar power plants, and participate in the RE100 initiative.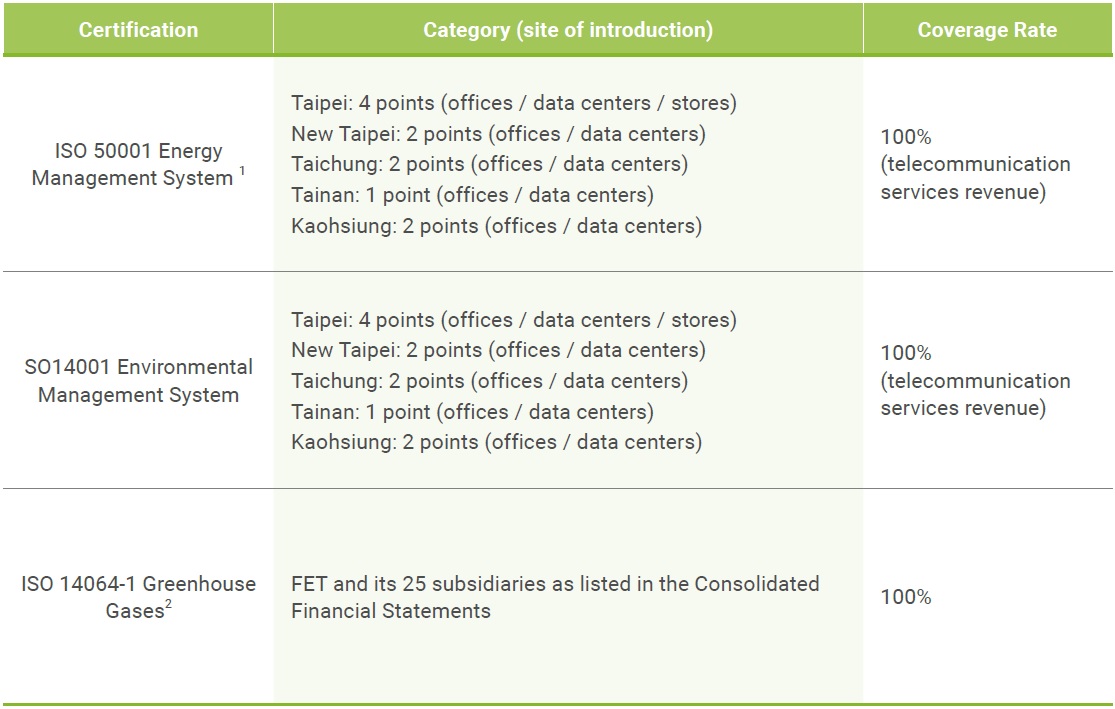 1. The Energy Management System has adopted the ISO 50001:2018 version.
2. The GHG inventory has adopted the ISO 14064-1:2018 version, and the scope included FET, New Century Infocomm Tech Co., Ltd., Kgex.com Co., Ltd., Information Security Service Digital United, Yuan Shi Digital Technology Co., Ltd., PrimeEco Power, FET Property Insurance Agency Co., Ltd., Yuan Cing Co., Ltd., Nextlink Technology Co., Ltd., Microfusion Technology, Mission Entertainment, Digital United Information Technologies Inc, Nextlink (HK) Technolog Co., Limited, Microfusion (HK) Technology Co., Limited, FEIS, New Diligent Co. Ltd., New Diligent Hong Kong Co. Limited, Sino Lead Enterprise Limited, Digital United (Cayman) Ltd., Far Eastern New Diligent Company Ltd., Ideaworks Entertainment Co., Ltd., Nextlink (Shanghai) Technology Co., Ltd., ARCOA Enterprise Co., Ltd., Data Express Digital Technology Co., Ltd., Home Master Technology Ltd., etc.
FET Overall Energy Management and Conservation
In order to facilitate the transition to renewable energy, FET establishes yearly objectives and encourages energy-saving initiatives for key departments with high energy consumption. These departments include base stations, data centers, stores, offices, and logistics.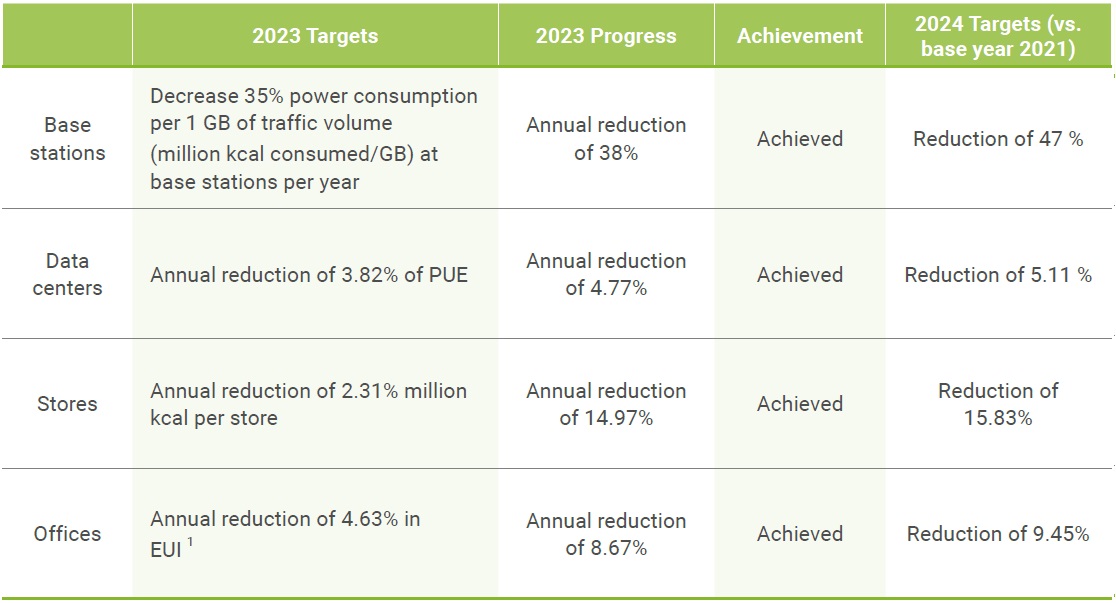 *1.Energy Use Intensity(EUI): power consumption in kWh/total floor area of the building (Unit; kWh/m2*year)
*2.In FY2022, the percentage of renewable energy of total energy used of FET is 0.49%, and percentage of renewable energy of total energy used in data centers is 2.21%