Environmental Management Policy
Low-carbon Operational
FarEastone Telecommunication (FET) is well aware of the risks and opportunities our enterprise operations may bring on the environment and energy consumption. Therefore, we have established an Energy and Environmental Management System to provide useful resources from the perspective of the telecommunication life cycle. We collaborate with business partners, suppliers and contractors, continuing to improve energy efficiency, promote pollution prevention, decrease greenhouse gas emissions, and continually improve energy performance to mitigate and adapt to climate change. FET formed the Energy Management Committee to enforce effective internal energy management. In addition, FET began progressively introducing the ISO International Management System to support the creation of practical, effective, and easy-to-use energy management mechanisms and frameworks. FET also defined the Environmental & Energy Policy accordingly encourage customers, suppliers, contractors, key business partners and mergers and acquisitions ,which are used to govern energy management practices at all business sites, promote energy-saving action plans, as well as audit and help to verify actual performance.
We have established environmental and energy management systems. From the perspective of the telecommunications service lifecycle, we utilize our industry influence. Together with customers, suppliers, and contractors, we provide various usable resources and set specific goals to continuously improve energy and environmental performance, encourage pollution prevention, and reduce greenhouse gas emissions, thereby reducing and alleviating the effects of climate change.
Environment and Energy Management Committee
FET has established an Environment and Energy Management Committee, which is chaired by the CFO. Members include the heads of different departments, and quarterly meetings are convened to discuss energy and environment-related targets and performance. FET has also established the Environment and Energy Management Policy, which includes management over energy and environment, GHG reductions and responses to climate change.
Environmental Management System
FET has long since introduced ISO 14001 Environmental Management, ISO 50001 Energy Management, and ISO 14064- 1 Greenhouse Gases, and also obtains assurance from external units. The coverage and outcome of each environmental management system is as follows. In 2021, FET plans to introduce ISO 14001 and ISO 50001 in TPKC. The main objective for ISO 14001 is to ensure over 500 companies completed CSR training, controlled within 170,000 purchases of SIM card, and enhance the usage rate of electronic bills to 81%. The objective for ISO 50001 is to conserve 2.2359 million kWh.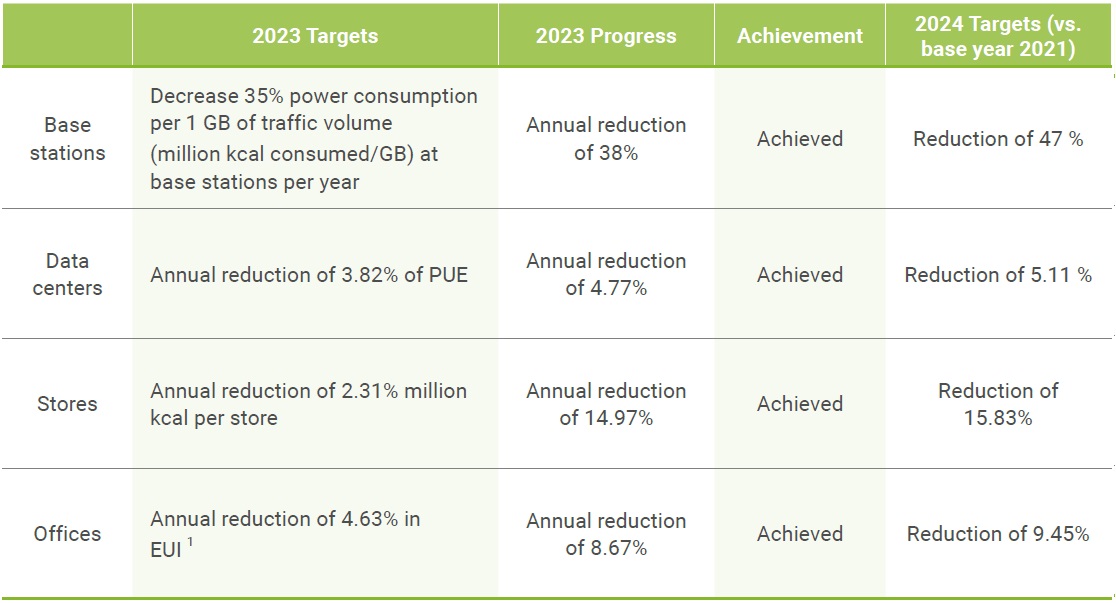 FET Energy Management and Energy Conservation Policy 
To gradually work toward energy transition, FET sets annual targets and promotes energy-saving measures for major high-energy consumption departments, including base stations, equipment rooms, stores, offices, and logistics.