Customer Privacy Protection
Personal Data and Privacy Protection Policy
FET follows the domestic laws and regulations, including the Personal Data Protection Act, the Enforcement Rules of the Personal Data Protection Act, and the NCC's regulations on non-public agencies' personal data file security maintenance. Additionally, the company referred to the General Data Protection Regulation (GDPR) of the European Union to ensure the protection of privacy information. FET adheres to fundamental principles such as Privacy by Design and Data Protection by Design to safeguard privacy information.
FET's Privacy Policy applies to the entire operational process of FET, including suppliers and partners. All employees of FET are required to comply with the "Management Regulations for Personal Data and Privacy Information Collection, Processing, and Utilization" set by the company. When collecting personal data and privacy information, it must adhere to the approved collection purposes and scope, and inform the data subjects about the collection. If any employee is found to violate the relevant policies and regulations, FET will take necessary disciplinary actions according to the code of conduct and may implement relevant legal measures as appropriate. For details, please refer to FET's Privacy Policy on official website
Information Security and Privacy Management Organization
To demonstrate FET's commitment to information security and customer privacy, the company has established a corporate security organization, consisting of the President and representatives from all business units, totaling over 30 members. Besides, FET has set up a dedicated security department - Corporate Information Security Office and the Chief Information Security Officer (CISO). The CISO is assigned and directly report to the President. Through various committees within the corporate security organization, FET promote and advocate for information security and personal data privacy affairs within each business unit. FET also coordinate responsibilities and tasks related to security maintenance across business units to ensure the comprehensive implementation and operation of information security throughout the entire company.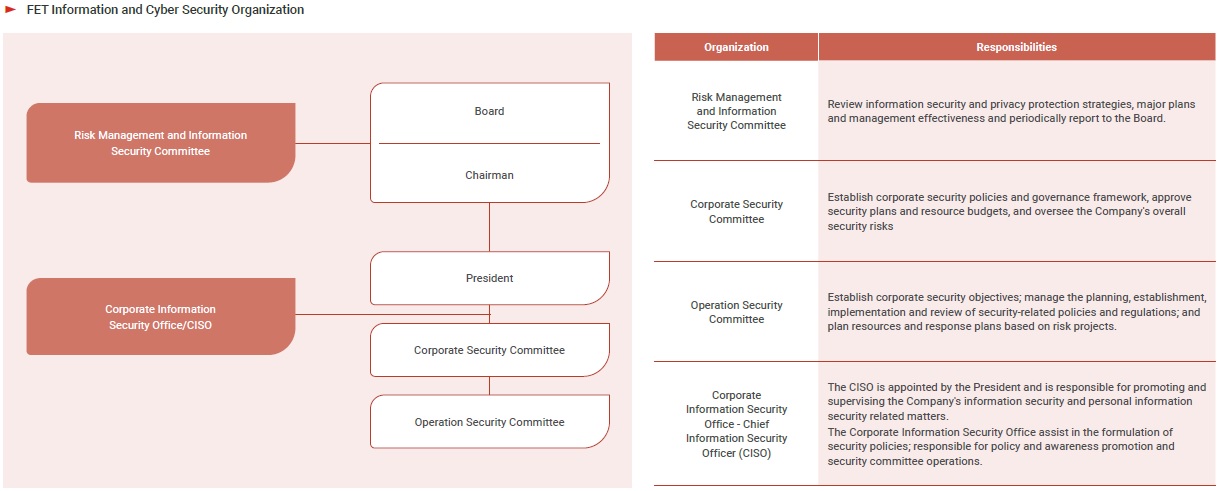 Information Security and Risk Management Mechanisms
FET's overall enterprise risk management system includes the risk management of information security and personal data privacy protection. In response to the digital transformation driven by emerging network technology generation (including 5G, big data, AI, IoT, cloud/virtual/containerization technology), the integration of services, architectures, technologies, and existing networks, and cross-domain/cross-industry innovative applications in collaboration with the third parties in various modes will bring new challenges to information security and personal data privacy protection. Building upon the existing security management foundation, FET continues to strengthen technical, managerial, and personnel protection mechanisms in network construction, operation, and management. Resource allocation is adjusted as needed to ensure the implementation and enforcement of information security, personal data protection, business continuity, and other security-related management practices.
To provide secure and optimal experience, FET has developed its own intelligent monitoring platform with built-in multi-dimensional visualization dashboards and customized threat detection rules. This platform accurately identifies security risks and assists cybersecurity personnel in actively defending against potential threats before hackers can initiate any malicious actions. FET has also established a dedicated cybersecurity defense team and operates a 24*7 Security Operations Center (SOC) staffed with professionals holding cybersecurity professional certifications like CEH with more than 10 years of experience in the field. Various security assessments are conducted regularly, including vulnerability scanning, code review, and penetration testing. Any identified weaknesses must be promptly remedied within specified timeframes and retested for validation.
FET's information security monitoring system encompasses four major control domains: Information and Technology Security, Personnel Security, Physical and Environmental Security, and Customer Personal Data Protection. The key aspects of each control domain are outlined as follows:
Information and
Technology Security

Personnel Security

Physical and
Environmental Security

Customer Personal
Data Protection

Regularly review and
assess operational
cybersecurity risks.
Foster a company-wide
information security
culture and capabilities.
Documented policies
and compliance measures
for confirmation and
validation.

Declare employee security
responsibilities.
Implement and manage
the signing of "Non-Disclosure
Agreement" or legally binding
documents.

Establish a security zoning
system and personnel
identification system.
Enhance the protection systems,
services, and procedures
for physical assets and
environmental security.

Establish regulations for the
collection, processing,utilization,
and secure maintenance of
customer personal data.
Plan awareness campaigns,
education and training programs,
audit procedures, and
improvement processes.
FET's Information Security and Personal Data Management Certifications by 2022