Supplier Sustainability Management
FET periodically conducts supplier evaluation and ESG on-site audits annually based on the contents of the self-declaration statement. The results of FET´s annual supplier evaluation are announced on the procurement system's external website and at the annual Supplier Conference. Moreover, outstanding suppliers are recognized and invited to share their experiences at regular procurement meetings.
Supplier Self-Declaration
FET requires all suppliers to sign the Integrity Management Agreement and the Corporate Social Responsibility Self Declaration within a designated period of time. In 2021, all new 228 suppliers have signed the aforementioned documents, 100% sign-up rate of first-tier key suppliers (69 in total). In terms of FET's top 200 suppliers, 195 of whom have signed the Corporate Social Responsibility Self Declaration, reaching a response rate of 97.5%, 5.5% increase over the previous year, exceeding the annual objective of 95%, and accounting for 96.4% of the annual total procurements.

Violation of ethical management reporting channels:
FarEasTone has established "Ethical Management Violation Reporting Policy". Anyone can use the Company mailboxes or publicized channels for reporting and for appeals. The following reporting channels for internal and external use:
1.Internal personnel can use reporting channels to report as follows:
Whistle_blower@fareastone.com.tw
2.External personnel can use reporting channels to report as follows:
Ombudsman@fareastone.com.tw
3.Far Eastern Group Purchasing Website ECOME:
cp_complaint@feg.com.tw
Supplier Sustainability Risk Assessment
FET assessed ESG risk among all new suppliers, and a total of 283 suppliers are assessed in 2021 with 26 disqualified suppliers. In this group, 9 suppliers have completed their improvements, with an improvement rate of 35%, while 17 suppliers have been suspended due to inability to improve. In order to expand the intensity and evaluation, FET has increased the 19 indicators of the original sustainability self-assessment questionnaire for sustainability governance, supplier management, environmental management, labor rights and social impact to 27 indicators, and each indicator has 3-6 questions, totaling 104 questions for supplier sustainability risk evaluation. A total of 332 assessments were completed in 2021 which accounted for 93.06% of the annual purchases. This year, 11 high-risk vendors were identified, with the main risks focusing on confidentiality agreements, intellectual property protection, and the risk of disease transmission brought by COVID19, including 7 in business marketing, 1 in devices, 1 in general services, and 2 in information and communication integration. FET has formulated improvement plans for high-risk vendors and requested improvements. As of March 2022, all suppliers have presented their improvements, which have been confirmed by FET to have met their designated progress. The improvement rate is 100%。FET will also arrange for all high-risk suppliers to undergo a 2022 review to confirm substantial improvements. FET has introduced the ESG risk assessment and selection system for bidding vendors. The system is fully activated for major bidding cases over $15 million and will further expand ESG assessment screening for all types of vendors under $15 million in 2021, and a tracking sheet will be established to strengthen monthly control. In 2021, a total of 149 cases above $15 million will be screened, accounting for 57.56% of the annual procurement amount (excluding the exclusive U.S. Apple procurement amount). 71 cases below $15 million will be screened, accounting for 1.82% of the annual procurement amount (excluding the exclusive U.S. Apple procurement amount). Among all the screened items, 4 manufacturers did not meet the standard and will be evaluated in 2022 for improvement.

Supplier Assessment Result
FET conducts routine supplier assessment and audit in each year.2021 expanded evaluation categories to 12 major supplier categories, 200 suppliers were assessed, accounting for 95% of total procurement expenditure. The ESG weighting is also included in the evaluation, and the previous weighting of 25% is increased to 30% to reinforce the importance of ESG. Suppliers that score 5% lower than that of the previous year, and less than 70 points on the annual assessment, will be listed as requiring priority guidance. They need to carry out an improvement plan and require a second assessment. 1 failed vendor has been disposed of by suspension of rights as a no-trade target. The assessment results were published at the external procurement system website and Supplier general meeting.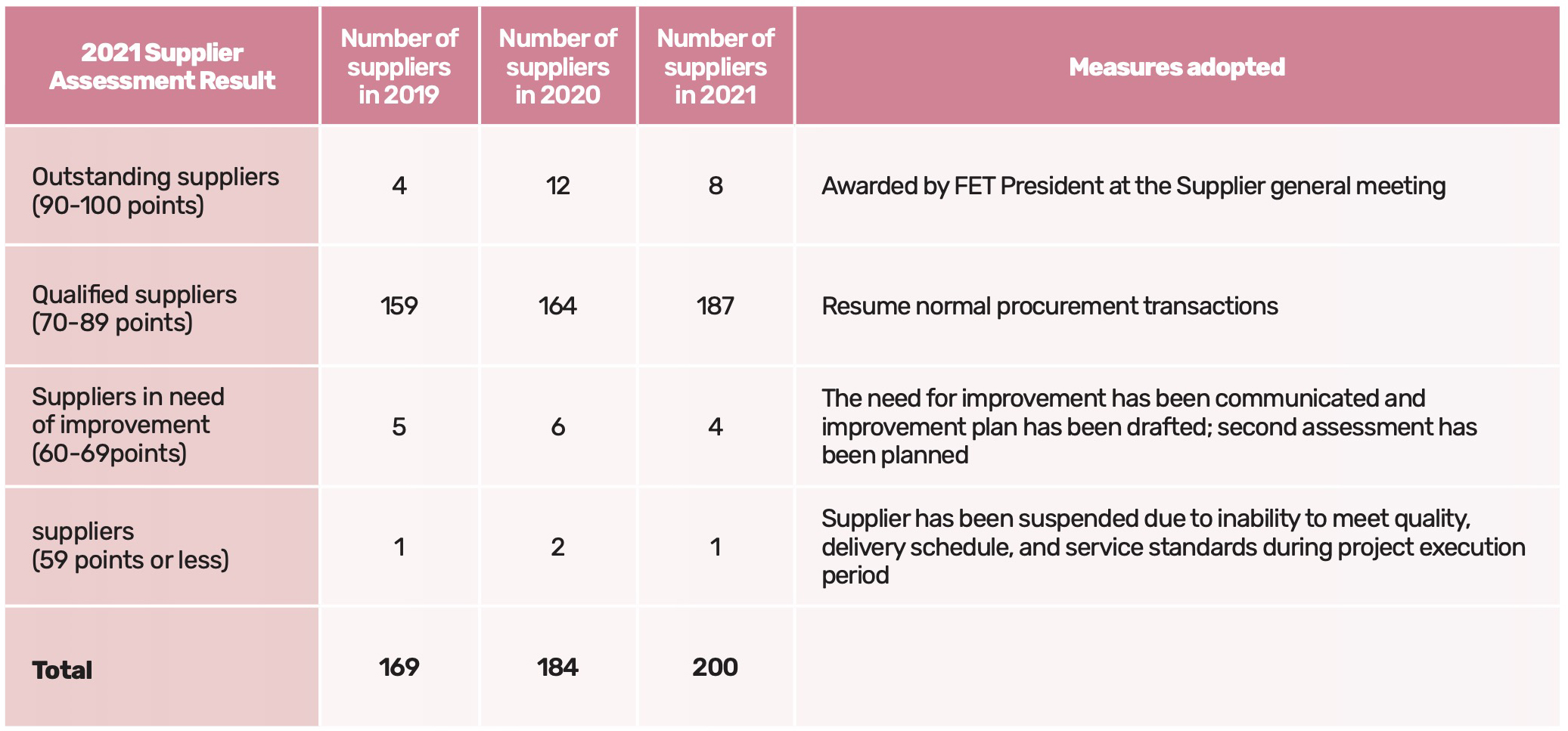 Supplier ESG Onsite Audit
Since 2016, FET has been arranging ESG onsite audit every year, mainly to first-tier key suppliers, and then adding important suppliers or second-tier key suppliers to carry out onsite audits according to the needs of the year, in order to expand the scope of ESG checks in the supply chain and ensure that suppliers are implementing their commitments to sustainable development in their daily operations. The inspection methods include independent visits by FET and third-party expert visits. In response to COVID-19, the onsite audits in 2021 will be conducted online and onsite in accordance with the requirements of each vendor, and a total of 74 audits will be completed. To strengthen the consistency of the evaluation, the same criteria as the annual risk assessment were used to conduct the inspections. 44 suppliers were inspected on site, of which 5 scored above 90 and 4 scored below 40. The low-scoring suppliers mainly have deficiencies in sustainability strategies and supply chain management, and will be evaluated in 2022 for improvement through counseling.