Supply Chain Management
FET has established its
Supply Chain Sustainability Management Policy
as the basis for supplier management, and the
Supplier Corporate Social Responsibility Guidelines
have also been introduced to encompass economic, social, and governance requirements in supplier standards. In 2020, for the purpose of strengthening the management, the term of punitive liquidated damages was added to the Integrity Management Agreement. All suppliers were requested to resign it, and 521 suppliers of whom have signed the revised agreement, accounting for 94.9% of the total number of suppliers. Integrity Management Agreement has been published on e-Procurement system in March, 2021, and all suppliers are requested to sign document online once a year. In addition, FET will review suppliers' third-party credit report and implement 9-scale assessment in 2021. Suppliers with credit rating falls between 8 to 9 will not be able to become new suppliers.
Supply Chain Management Strategy
FET has planned four strategic directions with separate objectives. The level of relevant impacts will be expanded to include FET's critical suppliers, other first-tier suppliers, and second-tier critical suppliers. In 2020, FET has been named to the Supplier Engagement Rating (SER) by CDP, as the top 7% of the assessed companies around the world. FET is the first telecommunications company to receive an A rating as a leader level in Taiwan. To improve the supply chain management of procurement colleagues, the Purchasing Department sets completion of various indicators as the annual assessment target,the final assessment result was tied with the incentive system.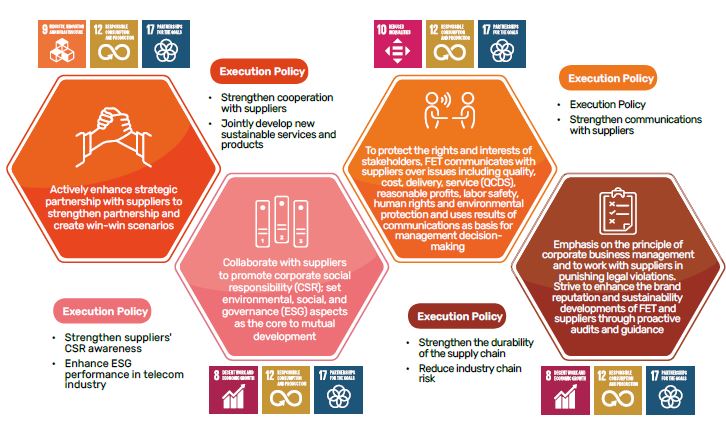 FET Supply Chain Management Processes

In addition,All FET procurement contracts clearly stipulate that all vendors are required to comply with applicable regional, environmental, and labor safety and health laws and regulations. Construction suppliers are required to sign the Contractors Labor Health and Safety and Environment Commitment, Declaration on Announcement of Contractors Worksite Environmental Hazards and to carefully read the Labor Health and Safety Management Implementation Points for Contractors. These suppliers are also required to carry out applicable management and hazard prevention tasks pursuant to the Regulations for Labor Safety and Health Organization Management and Self-Check to prevent occupational hazards to workers' safety and health. In addition to regularly conducting supplier assessment to ensure that suppliers comply with the aforementioned regulations in practice, FET also suspends the accounts of suppliers who have not transacted with the Company for three years or more to ensure information on suppliers' creditworthiness and corporate social responsibility are up to date.